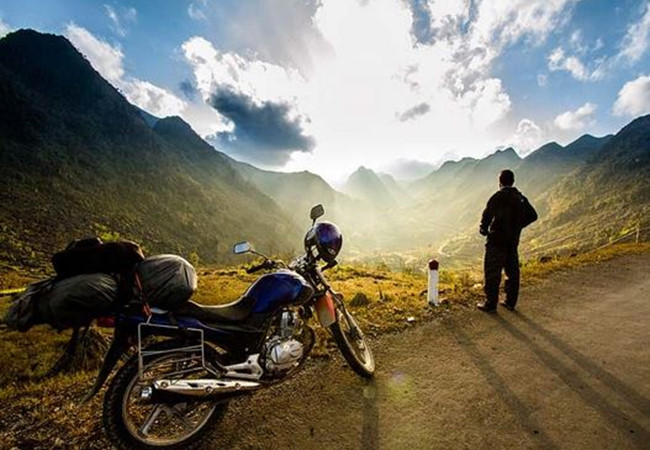 A-Z guide for traveling from Hanoi to Ninh Binh by motorbike
90 km away from the capital of Vietnam – Hanoi, Ninh Binh is one of the cities having the highest potential for tourism in North Vietnam in particular and in the whole nation in general. Ninh Binh is an increasingly popular attraction among the locals and foreigners alike. Many visitors even list the province as a must-visit site when coming to Hanoi.
Following is the list of must-see hot spots in Ninh Binh and how to travel from Hanoi to Ninh Binh picked up by BM Travel Adventure.
From January to March and from May to July are the 2 best times to explore Ninh Binh. Here is the shortest and easiest way to travel:
Take downtown Hanoi as your starting point, head to Giai Phong Street then go straight to Thanh Tri after passing Ngoc Hoi. Get to Phu Xuyen then go ahead to Phu Ly – Ha Nam then reach Ninh Binh.
2. Destinations for tourists in Ninh Binh
TRANG AN ECO-TOURISM AND BAI DINH PAGODA
You can't take a trip to Ninh Binh without visiting Trang An – the most illustrious place in Ninh Binh. This special national relic was recognized as a UNESCO World Heritage Site in 2013. So why is this site that renowned and attractive?
Being dubbed as an Outdoor geological museum with ranges of 2-million-year-old limestone. There is also a very diverse ecosystem along with extremely significant mangrove forests, valleys, swamps, caves.
Moreover, it is the land of spirit with variety of pagodas and statues of Buddha being well-known over Asia and Vietnam, of course.
To begin with, Bai Dinh Pagoda – the largest Buddhist complex in Southeast Asia, its architecture is majestic and exquisite covering the longest corridor of Arhat statues in Asia and the largest bronze Maitreya Buddha statue in Southeast Asia.
Trang An – Bai Dinh is so beautiful over the period of February –March when the site shows all of its most iconic features. It's also when spring takes place of winter, providing the best weather to enjoy spring and visiting a pagoda.
With around 13 to 22 dollars for the expenses, you can discover the whole Trang An Eco-Tourism – Bai Dinh Pagoda.
TAM COC – BICH DONG TOURIST AREA
Being compared to Halong Bay on the land, the Tam Coc complex including Tam Coc and Bich Dong is a highly celebrated tourist area in Ninh Binh and a key tourist attraction in Vietnam.
Ngo Dong River flows through mountains creating 3 caves. That's why the locals called it Tam Coc (Three Caves). The scenery adorned with the harmony of blue water, limestone mountains, and immense caves.
To enjoy fully the beauty of the sight, take a river cruise on Ngo Dong to admire the famed caves of three consisting of Hang Ca (The first cave), Hang Hai (The second cave), and Hang Ba (The last cave).
Time for sightseeing lasts from May to June when the landscape looks the most mind-blowing. Explore the best Mother Nature as you admire the green of rice fields under the golden sunlight alongside the blue clear current of water.
THE ANCIENT CAPITAL OF HOA LU
You can tell how famous this site is by hearing its name – Hoa Lu Ancient Capital.
This attraction is the first capital of the centralized feudal state in Vietnam in the tenth century before King Ly Cong Uan moved the capital to Dai La in 1010. With a thousand-year history, Hoa Lu is a witness of history and also a place maintaining history sites of the nation's dynasties.
In 2003, the government decided to preserve and develop the ancient capital's historical value. This is a very important national historic relic need to be upheld.
Going through thousand years of varying history, Hoa Lu still retains its beauty over the time, regardless of the time evolution.
Because of the long-time culture, there are many famous temples, pagodas like temples built in honor of the Emperors Dinh Tien Hoang and Le Dai Hang, Ly Thai To, Kim Ngan Pagoda, Yen Thanh ancient village.
Currently, the ancient capital of Hoa Lu has long drawn in tourists looking for Vietnam's history and long-standing historic value.
Cuc Phuong National Park
Cuc Phuong is the first national park in Vietnam, spreading over 3 provinces including Ninh Binh, Hoa Binh, and Thanh Hoa. However, most areas of the national park is spreading over Ninh Binh.
With the area of over 22 thousand hectares, Cuc Phuong National Park is considered a lively natural museum where there live rare animals and plants. Many of them are endangered species being found and protected.
The biota here is diversified thanks to the features of tropical forest. The air is fresh and pure with the average temperature of 24 degree Celsius (75.2 degree Fahrenheit) which is ideal for visitors to explore.
According to archaeologists, life started here about 7000 – 12000 years ago. Some relics discovered in this region are stone axe, stone arrows, knives made from seashells, and so on.
This virgin forest has a complex structure of terrain, hiding lots of natural mysteries and unparalleled landscapes that draw thousands of visitors to come here each year.
Forget not to uncover mysterious caves, historical and cultural relics like Trang Khuyet Cave (Crescent Moon), Thuy Tien Cave, Nguoi Xua Cave, San Ho Cave.
The time from December to April is the greatest time for tourists to come and relish the forest's beauty. The atmosphere is dry, refresh, and comfy.
Check out: Vietnam motorbike tours from Hanoi to Ninh Binh in 2 days
Van Long Nature Reserve
Situated in Gia Van Commune, Gia Vien District, Ninh Binh Province, Van Long Nature Reserve is about 80 km away from Hanoi. It's not too far from the capital so it just takes you 1.5 hours riding a motorcycle there. This is a rational spot for those who don't have much time seeking something new and exciting.
This 3.500-ha Reserve formed by a 30km-long dike running from the left bank of Day River. Accidentally, the dike made this swamps submerse lying beside gorgeous caves.
Van Long Nature Reserve is home to over 40 types of rare white-butt langurs, listed in Vietnam Guinness book of records for having the largest number of the species. They live in the stone caves above human head.
Go for a sail on a boat floating around the spectacular swamp and have a nature break-in. Here is a little spoil, Kong: Skull Island film crew had come here to shoot some scenes.
Spend only 4.5 dollars for the tickets, you can have a full day hanging around there and find peace within yourself.
All the above is the way to get from Hanoi to Ninh Binh on a motorcycle with the poetic and charming landscapes that can't be passed by.
BM Travel Adventure hopes this aforementioned information will bring you a perfect and emotional trip.
BM Travel Adventure is a leading motorcycle rental in Hanoi offering all kinds of motorbike comprising dirt bikes, enduro bikes, and off-road motorcycles. Having many years of experience, we ensure to provide the best motorbike rental services.
Aside from motorbike rental service, we host high-class professional Vietnam motorbike tours from North to South, with tours ranging from 1 to 21 days. We hold hundreds of motorbike tours each year and we are well-informed about all on-road and off-road terrains in Vietnam. We undertake to bring our dear customers a whole new and unique experience found in nowhere else.