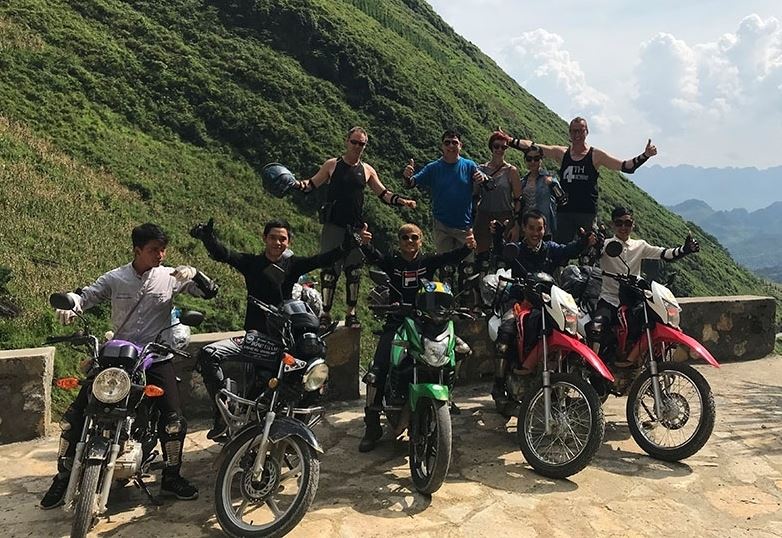 Traveling Hanoi to Cat Ba by motorbike for 2 days 1 night
Lining up along the coast of Hai Phong City with clear demarcation, Cat Ba is the largest island in the complex of the limestone karsts in Ha Long Bay and a National Park covers approximately half of its area. Therefore, this island has a wide variety of natural ecosystems, both marine and terrestrial, leading to an incredibly high rate of biodiversity. Cat Ba island is known for its pristine, crystal clear beaches such as Cat Co, Tung Thu, Ba Trai Dao and plenty of other beaches situated in Lan Ha Bay.
I would like to share my own experience of traveling from Hanoi to Cat Ba Island. I have printed my foot on this wonderful island several times but the most impressive memory is about my first time in 2007. The trip started at 5:00 a.m. from Hanoi and after passing two ferries, we had arrived in Cat Ba Island at 12:30. Cat Ba Island was extremely different 10 years ago. At that time, Cat Ba had the primitive features of an island where was not disturbed by modern tourism. Conquering narrow mud roads, what we got there was amazed us. Although Cat Ba Island had some limited services, the sparse restaurants and hotels and hospitable local people gave me the feeling of a peaceful countryside.
However, the recent trip visiting Cat Ba by motorbike actually brings me a new remarkable experience about this island. With the renovation and well-repaired roads, getting Cat Ba is much easier so that you can enjoy every moment in your backpacking tour to Cat Ba Island by motorbike.
The ideal time to visit Cat Ba by motorbike for 2 days and 1 night
Get yourself ready for an exciting summer in Cat Ba Island even for one, two or three days. It is certain that you will have an unforgettable experience with our 2 night – 1 day Cat Ba backpacking motorcycle tour.
The most important thing for the backpacking motorbike tour is the weather. Same as the other famous destinations in Vietnam were affected by tropical weather, Cat Ba Island also has a different outlook in a different season. Therefore, the ideal time for Cat Ba motorcycle tourism is between April and October. However, the recommends may be changed up to the weather and seasonal condition each year.
Choosing the day to visit Cat Ba Island also challenges your mind. As our experience, if your schedule is fitted on the weekdays, it is the perfect choice to travel from Hanoi to Cat Ba by motorcycle because weekends or special holidays of Vietnamese such as April 30th or May 1st are absolutely crowded and overloaded. How fantastic the tour is when you can swim in a peaceful beach or take sunbath while sleeping without annoyed by anyone else. In addition, the price of booking a hotel or renting a motorbike these days becomes more reasonable.
The 2-day 1-night Cat Ba motorcycle tour during a year
Besides arranging your schedule to book a tour, the weather condition is also an important thing that you need to pay attention to, especially towards the tropical atmosphere like in Vietnam. Therefore, we would like to highlight the different features of Cat Ba Island during four seasons in Vietnam.
In the spring
Located in the southeast of Ha Long Bay, Cat Ba Island also has the typical features of the northeast region of Vietnam. In case you are the local Vietnamese, the dull weather with drizzling rain and chilly air can make your tour become less significant. However, with the foreign tourists who are familiar with the cold weather, it might be not a big problem to travel the island by motorbike.
In the summer
The summer months are the best ideal time to join in any Cat Ba tour with the number of different activities like the 3 days 2 nights motorbike tour, the 2 day-1 night backpacking motorcycle tour, Hai Phong- Monkey Island tour or Lan Ha Bay boat cruise tour. You can enjoy the entire unspoiled beauty of Cat Ba in the peak tourist season. The beaches can be very crowded with fellow tourists so we recommend heading there early to find a good spot, swimming in the cool clean water or taking a bottle of beer while seeing the sunset on the beach.  What can be worth your expectations more than that?
One of the must-do things, when you come here, is to visit the fishing village or walk around the seafood market. Seafood is also the main reason for many tourists to visit Cat Ba in the summer season. With the warm weather, the ocean provides a variety of fresh seafood such as shrimps, squids, crabs, mantis shrimps. After a swimming day on the beach, dinner served with seafood will bring you a strong energy for the next day.
In the autumn
Traveling from Hanoi to Cat Ba by motorbike in autumn is also not a bad option. Everything is full of life thanking for the heavy rain and windy ocean. However, from August to October, typhoons commonly occur, so you should follow up on the weather forecasts to have a completed trip.
In the winter
In the winter season, Cat Ba is like a shy girl hiding behind the fog mist and suddenly appears clearly under the bright sunshine after 10 a.m. Tourists can observe the beautiful scenery of the island on the luxury boat cruises. The water is quite cold so only foreign tourists would love to visit Cat Ba in this season. So there are fewer tourism activities than in the high season.
If you want to visit Monkey Island, a very beautiful island in Cat Ba, you can rent a private boat for around three hours. Moving on the boat for only 20 minutes, you can spend the rest of the time to feed the cute monkeys on the island or hiking up the mountain to get rewarding views of the surrounding areas. It is definitely worth your 2 days 1 night Cat Ba tour.
BM Travel Adventure is a leading motorbike tour operator and motorbike rental in Vietnam. We have operated hundreds of Vietnam motorbike tours annually from north to south, and also motorbike tours to the nearby nations like Laos, Cambodia. We are sure to offer visitors the best places to travel to matching their lifestyle for a fun experience and the most unforgettable tour.
Address: 3/7/36 Duy Tan Street, Cau Giay District, Ha Noi City, Vietnam

Phone: +84 976 024 986

Email: info@vietnammotorbiketoursclub.com