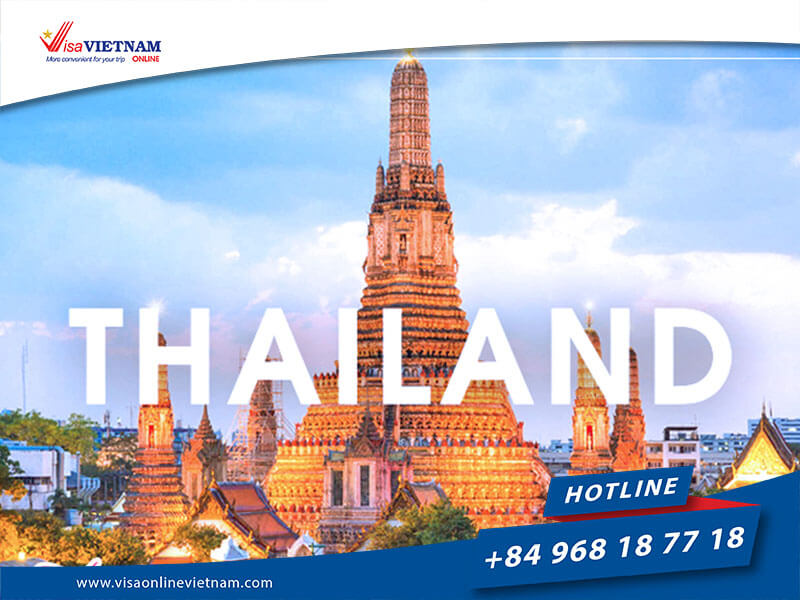 Requirements of Vietnam visa from Thailand
It is not latest news that Thailand citizens do not need a Vietnam Visa if they want to enter this country. However, in some case, both Thailand passport holders and foreigners from some countries are required for it. Let's find out requirements of Vietnam Visa from Thailand!
Do Thailand need a visa to visit Vietnam?
Thailand and Vietnam are in Asia, so it is very easy to go between the 2 country. According to Government's rule, Thailand citizens are not needed a Vietnam Visa if they enter Vietnam less than 30 days. If you are not Thailand passport holder but you live in Thailand, please check out the table below to know whether your nationality needs a Vietnam Visa or not.
In case Thailand passport holders plan to stay in Vietnam more than 30 days, they must apply a Vietnam visa in advance.
List of countries exempt from the visa to enter Vietnam
Areas
Countries
Term of residence
Asia
Singapore
less than 30 days
Thailand
less than 30 days
Malaysia
less than 30 days
Indonesia
less than 30 days
Laos
less than 30 days
Philippines
less than 21 days
Japan
less than 15 days
South Korea
less than 15 days
Cambodia
less than 30 days
Brunei
less than 14 days
Myanmar
less than 14 days
European
Sweden
less than 15 days
Finland
less than 15 days
Denmark
less than 15 days
Germany
less than 15 days
France
less than 15 days
United Kingdom
less than 15 days
Italy
less than 15 days
Spain
less than 15 days
Norway
less than 15 days
How to visit Vietnam with 30 days of free Vietnam Visa for Thailand citizens
Now, as citizens of Thaialand are free for 30 days of Vietnam Visa so if they enter Vietnam for tourism or business, they can stay for a maximum of 30 days without a visa. To get free visa, you have to bring your passport when visiting Vietnam by any transports such as airplane, bus, train or ship, cruise…
Please directly come to Immigration Check-in counter to get the blue stamp into your passport when you arrive Vietnam. With this stamp, you are allowed to stay in Vietnam for 15 days from your arrival date.
No cost and no other documents are required.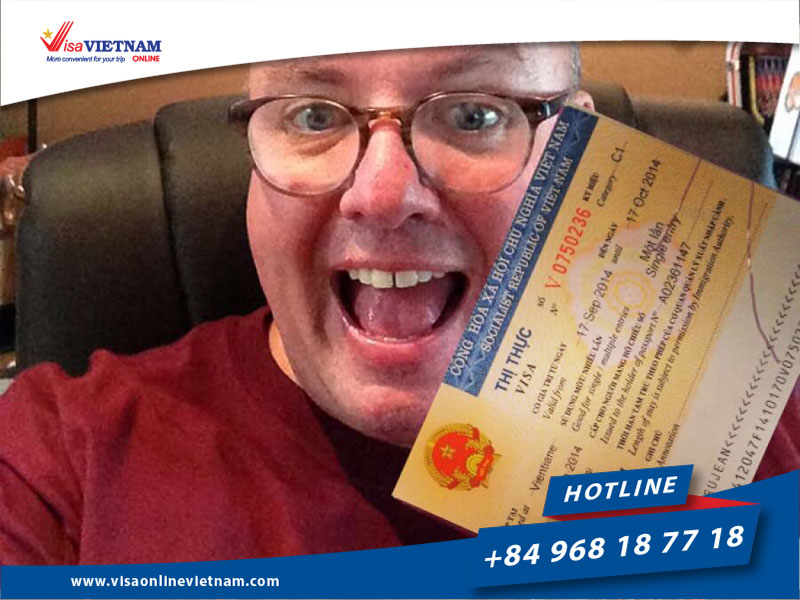 Requirements of Vietnam visa from Thailand is effective to Thailand citizens who want to stay in Vietnam more than 30 days and foreigners whose nationalities are not in Vietnam visa exemption list. There are 2 way to apply for a visa, and you can find detailed way at How To Get Vietnam visa from Thailand?
Ports of entry that permit the use of a Vietnam visa on arrival
International airport
Noi Bai International Airport (Ha Noi)
Cat Bi International Airport (Hai Phong)
Da Nang International Airport
Cam Ranh International Airport (Khanh Hoa)
Tan Son Nhat International Airport (Ho Chi Minh City)
Can Tho International Airport
Phu Bai International Airport
Phu Quoc International Airport
Landport
Bo Y Landport
Cha Lo Landport
Cau Treo Landport
Huu Nghi Landport
Tinh Bien Landport
Xa Mat Landport
Lao Bao Landport
Lao Cai Landport
Moc Bai Landport
Moc Bai Landport
Nam Can Landport
Ha Tien Landport
Song Tien Landport
Seaport
Hai Phong Seaport
Hon Gai Seaport
Da Nang Seaport
Quy Nhon Seaport
Nha Trang Seaport
Vung Tau Seaport
Ho Chi Minh City Seaport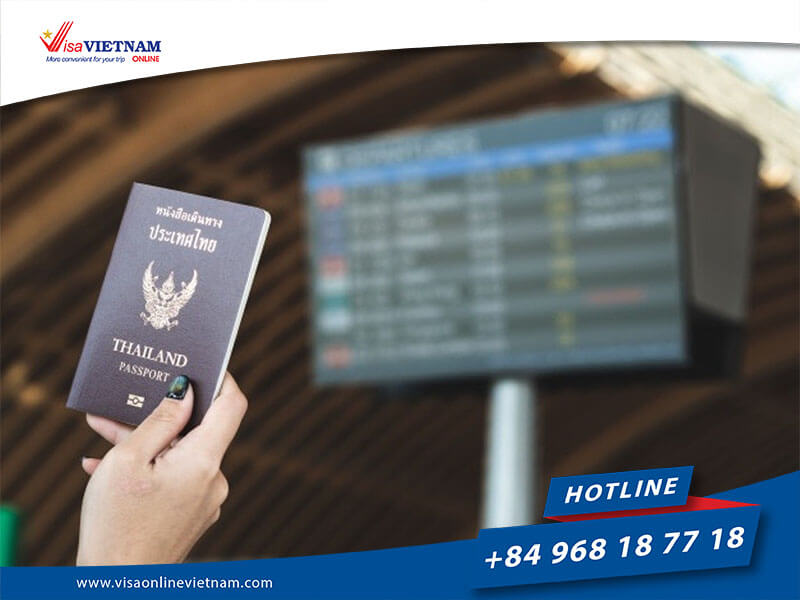 When applying Vietnam Visa, please note some information:
– In case you want to apply for visa from Vietnam embassy in Thailand, please check out the address of Embassy of the Socialist Republic of Vietnam in Thailand from our website.
– Required documentsL your passport with at least 6 months validity and 2 blanked left pages, 2 passport-sized photos, stamping fees.
– Processing time: 5-7 working days
– If you live far away from the Vietnam Embassy and do not want to lose the documents (passport, money or documents) by postal mail or traffic jam once visiting Vietnam Embassy, they can apply for Vietnam visa from Thailand, no matter you are not Thailand citizen and no matter where you are. This way is called Visa on Arrival or Vietnam Visa Online, it allow you to let a visa agent apply Vietnam Visa Online for you and you will pick up your visa at one of Vietnam International Airports, instead of obtaining a visa directly at Vietnam Embassy in Thailand.
Embassy of Vietnam in Bangkok, THAILAND
Address: 83/1 Wireless Road, Lumpini, Pathumwan, Bangkok 10330
Tel: 0-2251-5836-8/ 0-2251-7202/ 0-2251-3552
Stamping Vietnam Visa at Vietnam international airport
When using Visa on Arrival, you can get your visa stamped at Vietnam international airport, but you can not stamp your Vietnam Visa in case you apply at the Vietnam embassy in Thailand. After having the approval letter, you need to print it, take it with you to Vietnam and stamp visa at one of Vietnam international airport gates.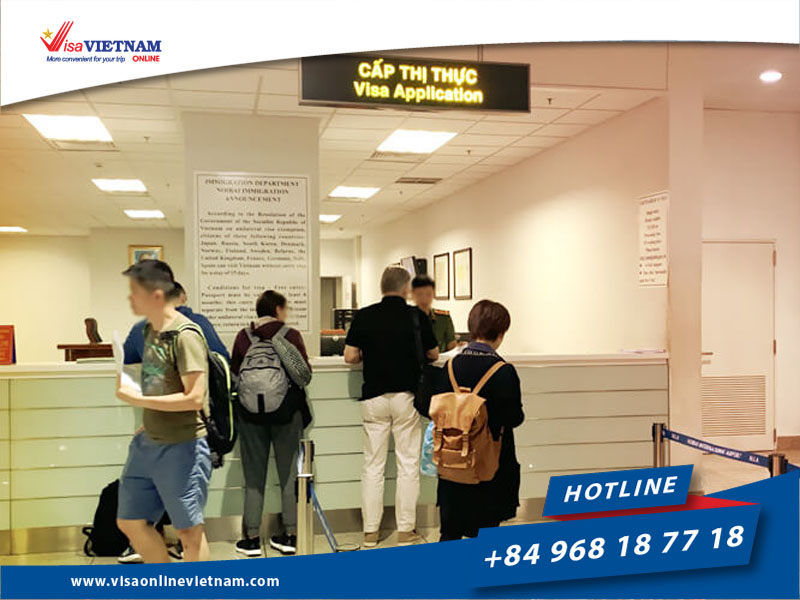 Prepare the following documents to stamp your visa at the airport:
Visa Approval Letter issued by Vietnam Immigration Department (which had been sent to your email in working days)
Immigration Form
Passport and remaining period of over 6 months, with at least 2 blank pages
Two 4×6 photos with white background, taken within 6 months and without glasses
Stamping fee
When applying Vietnam Visa via Visa On Arrival, you can choose extra service as well, such as FAST TRACK, CAR PICK UP, BOOKING HOTEL, BOOKING TOUR,…
You can refer Vietnam visa fee in Thailand to know Visa Fee, and take a look at Vietnam Visa Price for service fee information.
Applying Vietnam visa on Arrival or Business Vietnam visa, you can get your Vietnam visa in Bangkok, Chiang Mai, Hua Hin, Sukhothai, Krabi, Ayutthaya, Kanchanaburi or any cities in Thailand. Let's apply visa at visaonlinevietnam.com!
Requirements of Vietnam visa from Thailand: work permit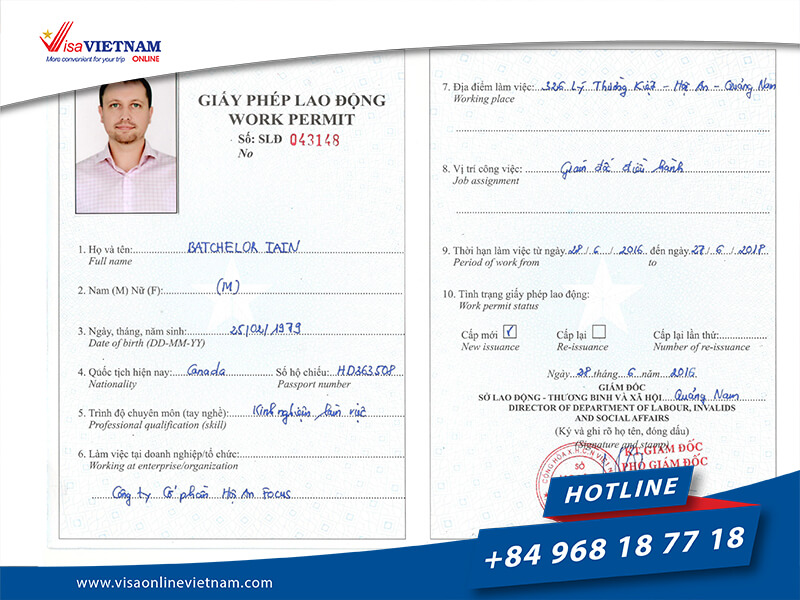 Because Thailand citizens are permitted to stay in Vietnam 30 days, it is also used for tourism. In this case they can not apply for tourism Vietnam Visa, they need Visa to work, this is also a permission that allows them to work in Vietnam.
There are something to be noticed about requirements of Vietnam visa from Thailand to work:
If you do not have a Company in Vietnam agreed to guarantee, please let Visa Agent know so they can handle trade visa instead.
Dossier set submitted to apply for V

ietnam visa

 is irrevocable so at that time travelers must still pay fee as normal
In case Visa cannot be apply by visa agent's fault, they will: redo or correct free of charge or refund as required by passenger
When obtaining Visa, applicants can go to Vietnam by air or travel by road or waterway from Thailand or from other countries.
***
ww.VisaOnlineVietnam.com is operated by VIETNAM VISA SERVICE., Co. LTD VIETNAM with more than 18-years experience in visa service and 20-year in traveling arrangement. This website was set up to offer visa applicants the most convenient but cheapest services that meet the criteria of Quality, Safe and Secure; Reliability, Prompt Responses, Competitive Prices, and Customer-Focused Approach; save your time & money; Money back guarantees for declined applications.
In case there are any question, please do not hesitate to contact us at Hotline: +84 968 18 77 18/ WhatsApp: +84 – 982 879718 or Email: sales@visaonlinevietnam.com/ Fanpage: https://www.facebook.com/visaonlinevietnamcom/.