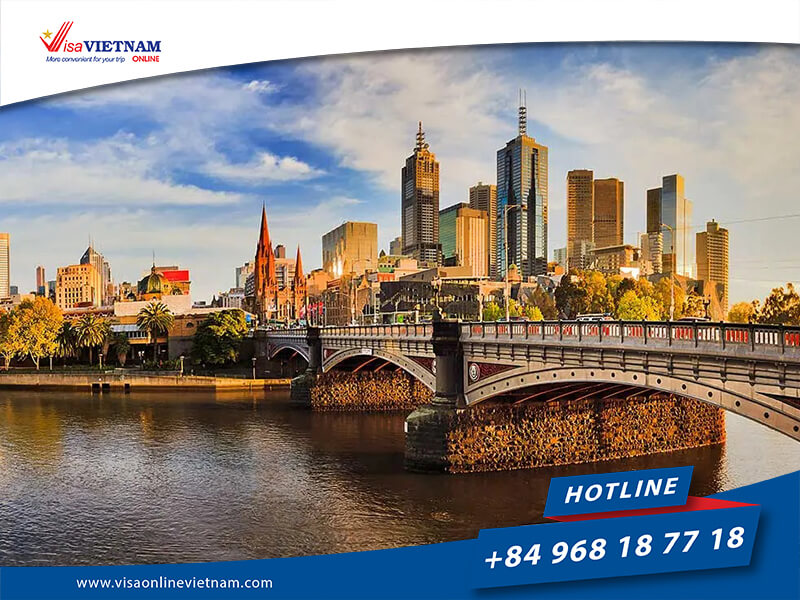 Ways for foreigners to get Vietnam visa in Australia
Do Australian citizens need to hold Vietnam visa to enter this country? Can foreigners apply for visa when they are in Australia? What is the process to get Vietnam visa in Australia?
Vietnam is now being an ideal destination to every body all over the world. If you are on a trip in Australia or you are a Australian citizen who live in Australia, you will need a visa to enter Vietnam. This article will support you with knowledge about How to get Vietnam visa in Australia.
View more:
How much do Vietnam Visa Service Fees in Australia cost?
How to apply Vietnam visa in Vietnam Consulate Perth?
New update about Vietnam visa extension in Australia
Do Australian citizens need a Vietnam Visa?
Before knowing How to apply Vietnam visa in Australia, you have to know whether you need a Vietnam visa or not.
At the present time, every Australian citizen need to obtain a valid visa for their every single trip to Vietnam. In case you are citizens of other countries who are not listed in Vietnam visa exemption list, you need a Vietnam Visa as well. So is your nationality in Vietnam visa exemption list? Just take a look at the table below. Check it carefully before applying for Vietnam Visa, you may not waste money and time.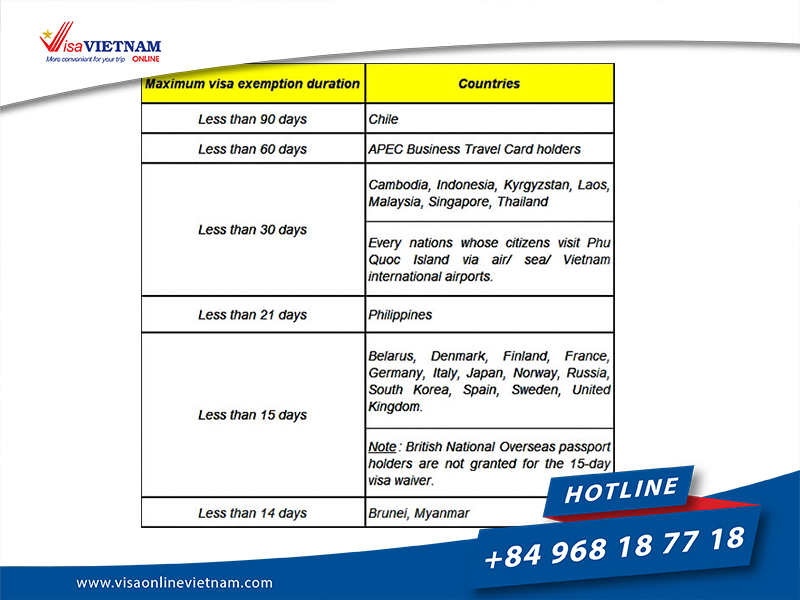 How to apply Vietnam Visa in Australia?
You can apply Vietnam Visa in Australia by two ways: Apply Visa On Arrival and Apply via Vietnam Embassy in Australia.
Applying for Vietnam Visa at Vietnam Embassy in Australia
Applying Vietnam visa at the Vietnam Embassy is a traditional way, in case you have time and want to apply by yourself. Here are something you need to notice:
Process time depends on how fast you need your Vietnam Visa. You should call to Vietnam Embassy for details if you want to make sure.
Required documents: your passport, money and 1 new envelope with stamp on it and your exact home address in order to avoid losing issues
In case you come personally to Vietnam Embassy in Australia, you need to fill in the application form, show 2 passport-size photos, pay the fee in cash, and then return to Vietnam embassy after 4-5 working days to pick up your Vietnam Visa.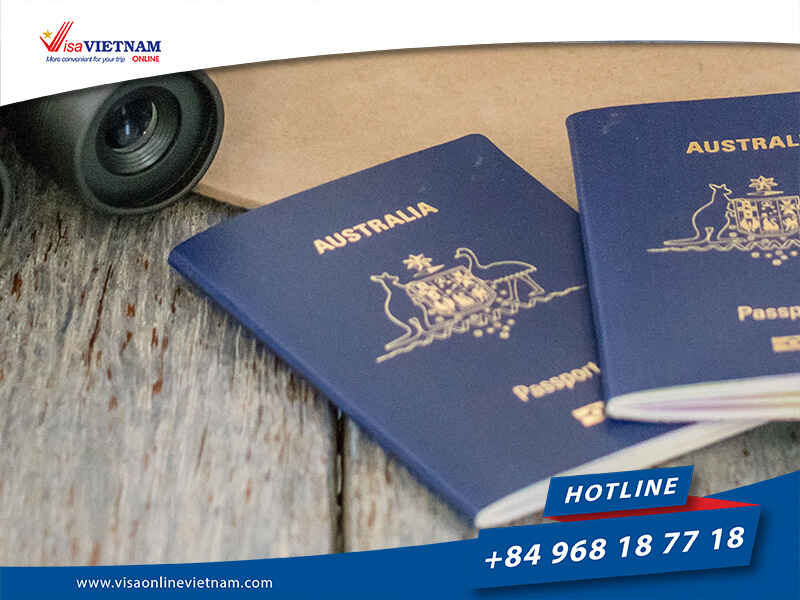 You can not use extra services when applying visa via Vietnam Embassy and you have to handle everything to make your trip be perfect.
Vietnam Embassy in Australia
Add: 6 Timbarra Cresent, O'Malley, ACT, Canberra 2606, Australia.
Tel: +61-2-62866059/62901556
Fax: +61-2-62864534
Email: vembassy@webone.com.au
Vietnam Consulate in Australia
Add: Suite 205, Level 2 Edgecliff Centre 203 – 233 New South Head, Road Edgecliff – NSW 2027
Tel: +61-2-932 72 539/932 71 912
Fax : +61-2-932 81 653
Email: vnconsul@iinet.net.au; info@vnconsulate.org.au
Vietnam Consulate Perth
Address: Vietnamese Consulate General in Perth, Australia – Level 8, 16 St Georges Terrace, Perth, WA 6000 – PO Box 3122, East Perth, WA 6892 – Australia
Telephone: (+61) 8 9221 1158 – 8 9225 3642 – 8 9225 3645
Fax: (+61) 8 9225 6881
E-mail: vnconsulate.perth@gmail.com/ vnvisawa@iinet.net.au
Consul: Mr. Phung The Long – Consul General
Office Hours: Monday to Friday 09:00-17:00
Visa on Arrival is used by many people who live so far away from the Embassy or Consulate, do not have time to go there apply for yourself, do not want to lose the issues (passport, money or documents) by postal mail. With this way, you can stay at home, access the Internet and follow some simple steps to get a Vietnam Visa.
We strongly advice you booking tourist visa or business visa on-line because the shortest and fastest option to get Vietnam visa as a result of it's several advantages:
– Process time: simply one to 2 working days in traditional case. Four to eight operating hours in urgent case and up to half an hour for rush case.
– Needed Documents: No documents required
– Most extra services: some extra services are available when you apply online as FAST TRACK, CAR PICK UP, BOOKING HOTEL, BOOKING TOUR,… . With these services, your trip will be more convenient and time-saving.
– How will it work? It is quite easy and simple to get Vietnam visa on arrival from Mauritius as the following guidance with 4 simple steps online:
Fill in apply Vietnam Visa form on website in just a couple of minutes with your personal information (name exactly as per passport, date of birth, nationality on passport, passport number: exactly as shown on the passport and date of arrival)
Make payment (visa approval fee/processing fee)
Receive the visa approval letter via email after 1 or 2 working days and print it out
On arrival in Vietnam (by air only), present the visa approval letter, original passport, 02 photos (passport-sized), entry and exit form to the Immigration Officers, pay the visa stamping fee, and then the visa will be stamped into your passport. Your visa has been done completely.
You'd better notice something before applying:
Make sure that your passport has minimum 6 months validity and 2 blanked left pages.
Visa on arrival option is ONLY applicable to those who travel to Vietnam BY AIR.
Applying Vietnam visa on Arrival, you can get your Vietnam visa in Melbourne, Sydney, Perth, Cairns, Adelaide, Brisbane, Canberra or any cities in Australia. Let's apply visa at visaonlinevietnam.com!
***
www.VisaOnlineVietnam.com is operated by VIETNAM VISA SERVICE., Co. LTD VIETNAM with more than 18-years experience in visa service and 20-year in traveling arrangement. This website was set up to offer visa applicants the most convenient but cheapest services that meet the criteria of Quality, Safe and Secure; Reliability, Prompt Responses, Competitive Prices, and Customer-Focused Approach; save your time & money; Money back guarantees for declined applications.
In case there are any question, please do not hesitate to contact us at Hotline: +84 968 18 77 18/ WhatsApp: +84 – 982 879718 or Email: sales@visaonlinevietnam.com.